Raven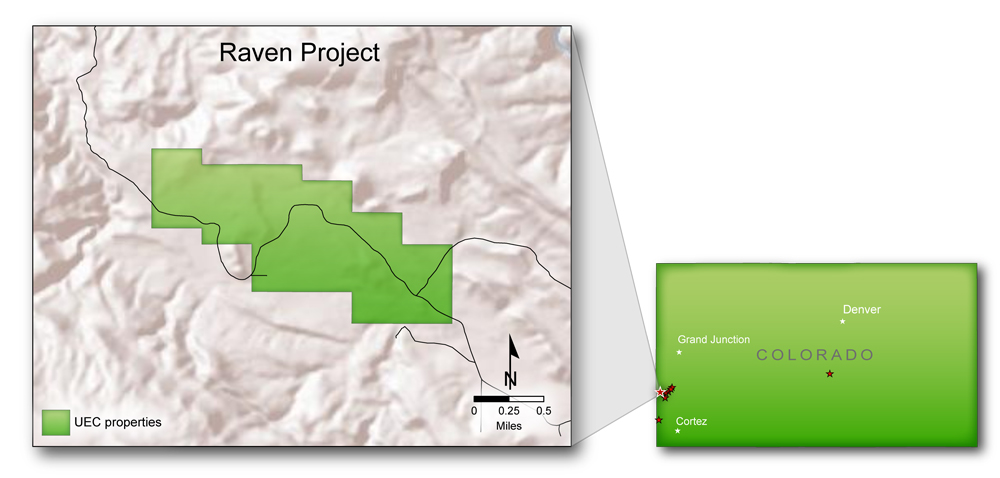 Project Snapshot
The Company has acquired a significant amount of historic data in the project area;
Current activities include field work and georeferencing of historic maps and borehole data; and
Preliminary efforts for completing an independent, 43-101 compliant technical report are underway.
Project Overview
Uranium Energy Corp's Raven Project is located in Little Gypsum Valley approximately 6 miles west of UEC's Bull Canyon and Radium Mountain Projects. The Raven Project consists of 37 claims (RM 1-37) and covers approximately 766 acres in Sections 3, 4, 10, and 11, T45N, R19W in Montrose County, Colorado. The project site consists of numerous historic mine workings including the Raven, American Eagle, Brooks and Gyp mines. In the project area, Uranium/Vanadium ores are hosted by the Salt Wash Member of the Jurassic Morrison Formation.
At the Raven Project, the Salt Wash Member is approximately 350 feet thick. In many areas the Salt Wash laps off of the underlying Pennsylvanian salt anticline. It consists of a sequence of light colored, lenticular, cross-bedded sandstone beds that alternate with green, gray, red or purple mudstone and claystone. The structure is dominated by a collapsed NW trending salt anticline and is bordered by a host of peripheral faults. Most of the mineralized zones lie in the uppermost sandstone of the Salt Wash. The upper sandstone ranges in thickness from 30 to 90 feet, but averages about 60 feet. Three to seven mineralized layers or rolls as they have locally been referred to, are distributed vertically and the greatest mineralization is restricted to the lower 20 feet of the upper rim sand of the Salt Wash Member. Roll-type mineralization occurs up to 12 feet thick; blanket-like ore bodies average 2-5 feet thick. Uranium is localized where the Salt Wash thins over the salt anticline and where it contacts the underlying salt. Topography is relatively flat with beds dipping to the south (4°). On the western edge of UEC's claims the beds dip west and are nearly vertical.