Burke Hollow
Burke Hollow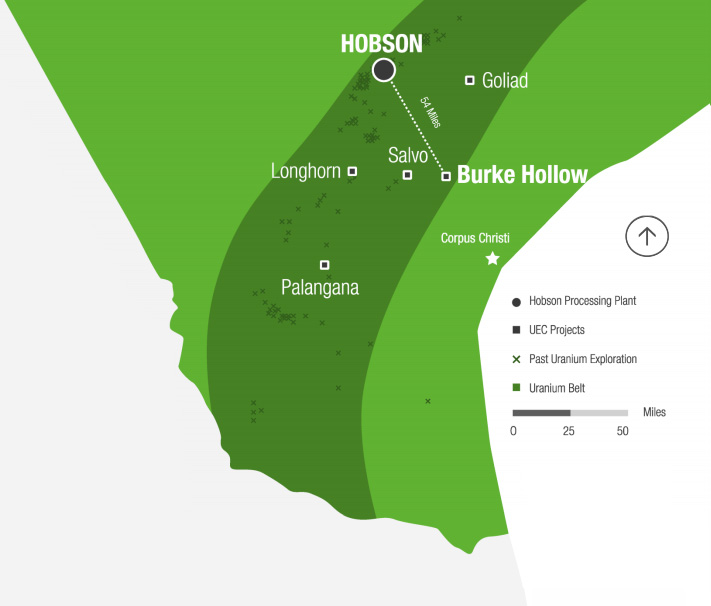 NI 43-101 Technical Report - 2/27/13
NI 43-101 Technical Report - 12/29/14
NI 43-101 Technical Report - 12/18/17
Project Snapshot
Inferred resource increases by recent drilling by 38 %, from 5.12 million pounds U3O8 to 7.09 million pounds U3O8*. The updated report estimates an Inferred mineral resource of 7.09 million pounds of uranium ("U3O8") at a weighted average grade of 0.088% U3O8 contained within 4.06 million tons.*
Discovery and delineation of higher grade zones has doubled uranium grade;
Former Exploration Target developed into newly defined Inferred Resource;
Potential for additional resource expansion with two new prospective mineralized areas discovered by recent drilling and a previously identified Exploration Target still to be drilled;
Only 45% of the expanded Project has been explored to date;
Environmental permitting advances with both Mine Permit and Radioactive Materials License applications were submitted to TCEQ earlier this year.
The Environmental Protection Agency has recently approved the 5,384-acre aquifer exemption request. This will further enhance on of the Company's largest ISR project.
Recent Developments
Project Overview
UEC's Burke Hollow project is a 19,335-acre property located in eastern Bee County, Texas. This uranium project is situated on the Goliad trend within the South Texas Uranium Belt, and is located approximately 50 miles southeast of the Company's Hobson uranium processing facility.

Four previous exploration drilling campaigns have been conducted by UEC at Burke Hollow since 2012, and total of 575 exploration and delineation holes, including 32 baseline monitor wells, have been drilled and completed at the project to date. Uranium orebodies which are hosted by Goliad sands have been discovered on two geologically distinct areas located on the ranch, known as the Graben area, and Eastern Burke Hollow.

UEC's Graben area is a large elongate geological feature consisting of almost 3000 acres located approximately in the center of the property. In 1993, Total Minerals conducted reconnaissance exploration activity consisting of 12 rotary drill holes within the Graben area. Six closely-spaced exploration holes revealed the presence of strong uranium mineralization in three sand/sandstones within the upper Goliad Formation.

In 2012, after construction of a two-acre operations area and field office, UEC initiated exploration drilling activities. Subsequently, 327 exploration and delineation holes have been drilled within the Graben. Five separate Goliad mineralized sand trends have been identified and partially delineated within the northern half of the Graben area, where 3.04 million lbs. of inferred resource U3O8 have been identified and delineated to date. These trends are open-ended, and additional extension drilling will be conducted in upcoming drilling campaigns. Burke Hollow Production Area II is expected to be located within the Graben area.

Very little exploration has occurred within the south half of the Graben, where a total of seven wide-spaced exploration holes and four baseline monitor wells have been drilled to date. Good gamma-ray shows were detected within several Goliad sands in this major undrilled area, where future exploration drilling is indicated.

UEC's Eastern Burke Hollow area consists of approximately 11,500 acres lying across a major antithetic fault which transects Burke Hollow Project. Two closely-related Goliad Lower B sand trends were discovered by UEC during 2013 and 2014 exploration drilling campaigns. A total of 239 exploration and delineation holes, including 13 baseline monitor wells, have been drilled here to date. Exploration and delineation drilling of these extensive trends which follow the outline of an anticlinal feature resulted in the discovery and calculation of 2.08 million lbs. of inferred uranium resource over a 1.7 mile trend length discovered to date. Burke Hollow Production Area I will be located here.

UEC's 2015 exploration drilling campaign's objective was to extend the two Lower B trends of Production Area I into previously undrilled areas of the lease. Thirty-two wide-spaced exploration holes were completed over a two mile trend length, with approximately two miles of additional prospective open trend acreage located along the periphery of the structure remaining undrilled to date.

Burke Hollow Project is the Company's third satellite project in South Texas and, with its proximity to the centralized Hobson processing plant, is the next project scheduled in line to go into production after the Goliad Project.

The Company's 2017 drilling campaign at Burke Hollow commenced in April with two contracted drill rigs and plans to drill up to 100 delineation and exploration holes. The primary objective of this campaign is to complete the exploration and delineation drilling phase of the Goliad Lower B trends which will constitute Burke Hollow Production Area 1.

The company continues to advance production permitting at the project and has received three of the four major permits needed for production. Two disposal well permits were issued in July 2015, and the 11,000 acre plus Mine Area permit was issued in December 2016 by the Texas Commission on Environmental Quality (TCEQ). In March 2017, the Environmental Protection Agency also approved the 5,384 acre aquifer exemption. The last major approval is the Radioactive Material License which remains under technical review by the TCEQ.
National Instrument 43-101 ("NI 43-101") resource for the Company's Burke Hollow, Texas, property that estimates an inferred mineral resource of 5.12 million pounds of uranium ("U3O8") at a weighted average grade of 0.09% U3O8. This resource update includes information from 526 drill holes. This mineral resource estimate was completed using accepted methods mandated by NI 43-101 and Canadian Institute of Mining, Metallurgy and Petroleum standards utilizing a grade cutoff of 0.02% U3O8, and a grade times thickness product cut-off (GT) of 0.30. Details of the resource are set out in the table below.
Burke Hollow Estimate Of Inferred Mineral Resources (PFN)*

Trend

Area
(ft2)

Average
Thickness
(Ft)

Average Grade
pU3O8
(%)

Average GT
>0.3 GT
(0.02% Cutoff)

Contained U3O8
(Mlbs)

Tons

Lower A1
(Graben)

1,287,077.0

11.0

0.097

1.079

1,624,844.62

837,548.77

Lower A2
(Graben)

271,257.9

8.8

0.073

0.514

163,129.09

111,732.26

Upper B
(Graben)

627,764.6

7.7

0.063

0.489

359,162.96

285,049.97

Lower B1
(Graben)

470,064.2

9.5

0.091

0.885

486,728.00

267,432.97

Lower B2
(Graben)

413,643.3

9.5

0.091

0.846

409,432.40

224,962.86

Graben
Totals

3,043,297.07

1,726,726.82

Lower B1
(East Side)

1,026,492.6

9.2

0.093

0.863

1,036,459.81

557,236.46

Lower B2
(East Side)

1,082,236.5

9.4

0.085

0.823

1,042,096.37

612,997.86

East Side
Totals

2,078,556.18

1,170,234.32

Graben and East Side
(Project) Totals

**Average
Grade
.09% U3O8

Graben and
East Side
Total

5,121,853.25

2,896,961.14
* grade values are based on Prompt Fission Neutron ("PFN") logging
** Weighted average across the project area.