Reno Creek
Reno Creek
Project Snapshot
The Reno Creek Project is permitted, having obtained its Wyoming DEQ Permit to Mine in July, 2015, its Aquifer Exemption from EPA Region 8 in October, 2015, and its Source and By-Product Materials License from the NRC in February, 2017.
Measured and Indicated Resources total 27.59 million tons grading 0.041% U3O8 containing 21.98 million pounds. Inferred Resources total 1.36 million tons grading 0.036% U3O8 containing 0.93 million pounds.
The fully permitted portion of the project has 18.26 million tons grading 0.038% U3O8 containing 13.74 million pounds.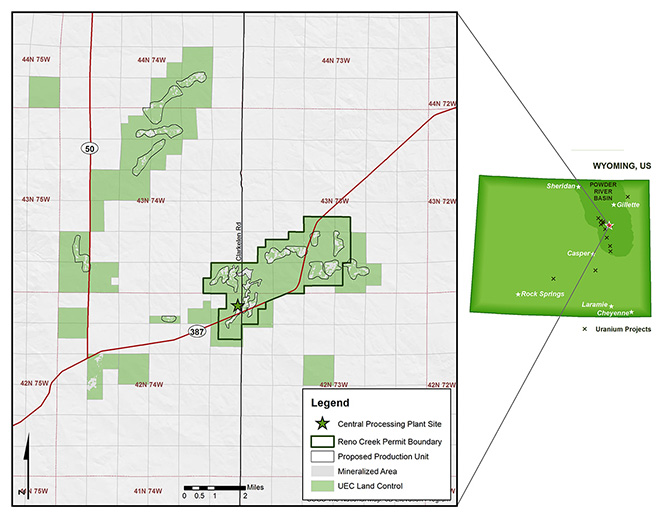 Project Overview
The Reno Creek project is located in the Powder River Basin of northeast Wyoming, one of the most prolific uranium producing regions in the US and the home of four producing ISR operations, Cameco's Smith Ranch/Highland, Uranium One's Willow Creek, Energy Fuels' Nichols Ranch, and Strata's Lance project. The project is less than 10 miles from the nearest town, Wright WY, with a population of 1800.
The project consists of 21,600 net acres of properties including a 40 acre, company-owned central processing plant (CPP) site, and five major resource units, all within 6 miles of the proposed CPP.
Uranium was originally discovered by several 1960s/1970s mining companies, including Rocky Mountain Energy, Cleveland Cliffs, American Nuclear and TVA, Pathfinder Mines, and others. Most of the leases and claims that held the resources were dropped in the late 1990s and early 2000s. In the mid-2000s, Strathmore minerals re-staked mining claims and took leases on most of the current project. Strathmore in 2010 sold them to AUC LLC, which was acquired by UEC in 2017 and is a wholly owned subsidiary and the operator of the project.
Uranium deposits at the Reno Creek Project lie within a geologically favorable fairway characterized by porous and permeable fluvial sandstones of the Eocene Wasatch Formation. The sandstone aquifers are overlain and underlain by barren sequences of shales and occasional thin coals. A complex series of stacked roll fronts occur along oxidation/reduction boundaries forming prospective trends that extend for over 40 miles through the greater project area. The deposits occur at shallow depths (200-400 feet) in a sparsely populated area with gentle terrain, providing excellent logistics and access.
While much of the trend has been very well explored by AUC and past workers, excellent upside for further discoveries exists. The company's database includes more than 10,000 uranium drill holes and over a thousand Coal Bed Methane logs to guide future exploration.
Geologists have mapped 10-20 miles of roll fronts on the company's holdings that are undrilled or under-drilled providing numerous high quality exploration targets to expand current resources. During 2012 and 2013, the company drilled 800 holes along one such trend, adding approximately 2 million pounds to the resource base.
AUC conducted permitting and licensing activities and received final permits from Wyoming DEQ and EPA in 2015 and from the Nuclear Regulatory Commission in 2017. The Wyoming DEQ issued its Permit to Mine in July, 2015. DEQ also referred its recommended approval of the Aquifer exemption to EPA, which approved it in October, 2015. In 2016, DEQ's Air Quality Division approved the Air Quality Permit.
The NRC issued its Draft Environmental Impact Statement in July, 2016, and the final in December of 2016. In its release, NRC noted that that "only small environmental impacts would result from the construction, operation, aquifer restoration and decommissioning of the proposed in situ recovery facility. Small impacts are defined as those that would be undetectable or so minor that they would not noticeably alter any important attribute of the environmental resource in question". NRC then issued the License for the project in February, 2017, covering 6057 acres and approximately 13.74 million pounds of U3O8.
The permits and license provide for a full central processing plant on 40 acres owned by the company, which lies approximately ¼ mile from two all-weather highways and high voltage power, and less than 3 miles from natural gas lines. The project is licensed to produce up to 2 million pounds per year of U3O8, and may also treat by tolling either lixiviant or resin produced by others or alternate feed material. Included in the current license are the two largest resource units, North Reno Creek and Southwest Reno Creek. The outlying resource units will be added for production by amending the current license.
Subsequently, NRC approved of the Transfer of Control to Uranium Energy on July 31, 2017.
The latest National Instrument 43-101 (NI 43-101) Technical Report on the project, filed July 31, 2016, provides for a measured and indicated resource estimate of 27.47 million tons grading 0.041% U3O8 containing 21.98 million pounds. Inferred resources total 1.36 million tons grading 0.036% U3O8 containing 0.93 million pounds.
The table below summarizes the measured and indicated resources from the 2016 Technical Report.
Resource Estimate Reno Creek Project

Class

Tons2 (million)

Average
Thickness
(feet)

Average
Grade
(%U3O8)

Pounds U3O82
(millions)

Measured

12.38

13.6

0.043

10.61

Indicated

15.09

11.5

0.039

11.37

Total

27.47

12.3

0.041

21.98
The company is in the late stages of completing its Value Engineering for the project and will be able to start up the project quickly as uranium prices become favorable.