Sponsored Lunch
Sunday Jan 19th, 2020
12:00 – 1:00PM PST Location: Meal Room, Vancouver Convention Centre West
Space is limited. Pre-register now and pick up your ticket at Booth #402
---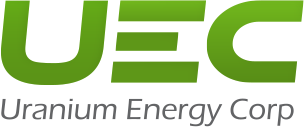 Uranium Energy Corp.
(UEC: NYSE American) is an independent, 100%-unhedged U.S. uranium mining company. UEC controls 104 million lbs. of Measured & Indicated & Inferred Resources, and a fully permitted/built uranium processing plant in South Texas. With two million pounds of physical capacity at the Hobson Plant and a WLQD Permit for production of two million pounds per year in Wyoming, UEC has a baseline potential production profile of 4 million pounds of U.S.-origin U3O8 per year, with room to expand. The Chairman of UEC is former U.S. Energy Secretary, Spencer Abraham.
www.UraniumEnergy.com

Toll Free: 1 (866) 748-1030
E: [email protected]
@UraniumEnergy
Uranium Royalty Corp.
(URC: TSX-V) is the first and only pure-play uranium royalty company focused on gaining exposure to uranium prices by making strategic investments in uranium interests, including royalties, streams, debt and equity investments in uranium companies, as well as through holdings of physical uranium. Uranium Royalty Corp. holds a strategic investment in Yellow Cake plc (LON: YCA), a key asset for the Company. This provides URC with exposure to Yellow Cake's physical uranium and the option to acquire additional uranium for future opportunities, aligning with URC's royalties, streams and other business interests.
www.UraniumRoyalty.com

Toll Free: 1(855) 396-8222
E: [email protected]
@UraniumRoyalty