Long Park
Long Park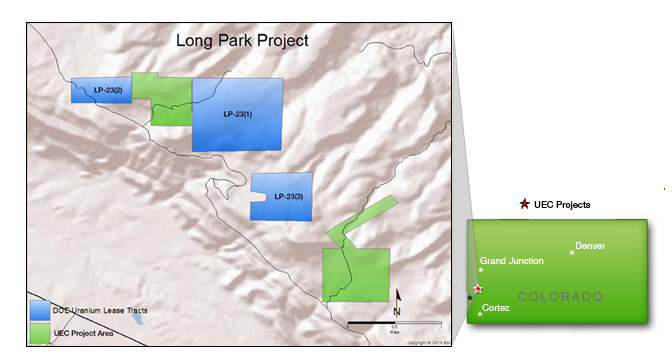 Project Snapshot
The Company has acquired a significant amount of historic data in the project area;
Current activities include field work and georeferencing of historic maps and borehole data;
Preliminary efforts for completing an independent, 43-101 compliant technical report are underway.
Project Overview
Uranium Energy Corp's Long Park Project is located on the northeast side of the Paradox Valley in Montrose County, Colorado and is approximately 12 miles northwest of Naturita. The Project consists 2 non-contiguous claim blocks located in T46N R17W and T46N R16W, NM Principal Meridian. The Project is located in the southeastern portion of the Long Park district within the Uravan mineral belt and consists of 20 claims (EVA and BJT blocks) that cover approximately 408 mineral acres. The Department of Energy (DOE) Lease tracts LP-23(2) and LP-23(1) are contiguous with the EVA claim block. The BJT claim block is contiguous with an ore body drilled out by Nuclear Dynamics in the late 1970s through early 1980s. Historic production from the Long Park Project came from the Hardrock mine. The Uranium/Vanadium ores are hosted by the Upper and Lower Rim Sand of the Salt Wash Member.
The Salt Wash Member of the Morrison Formation is approximately 250-400 feet thick in the Long Park Project area. The Salt Wash contains three to eight sandstone ledges ranging from 20 to 150 feet in thickness and separated by clay or shale layers, resulting in a cliff and slope topography. At the southern end of Long Park just south of the Bitter Creek Mine, located in Section 12 of T46N R17W, NMPM, the upper rim is not present. A highly altered 30 foot to 80 foot thick sequence of channel sands is located in the lower portion of the Salt Wash. These sands exhibit both a northeast and southeast trend. Thick accumulations of Salt Wash sediments in the Long Park district were a result of the deflection of the generally northeast trending paleo-streams around the paleo-topographic high created by the Paradox Valley salt anticline.