Slick Rock
Slick Rock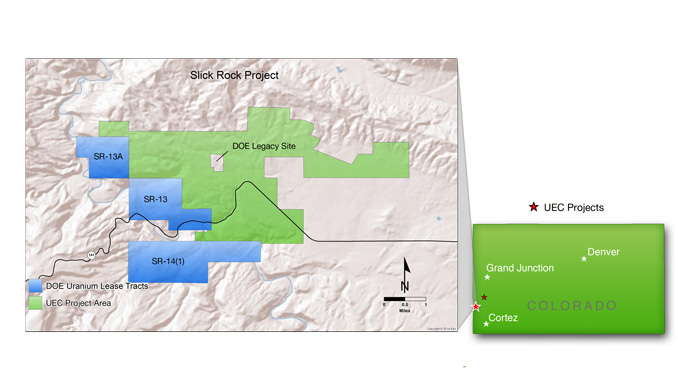 NI 43-101 Technical Report - Preliminary Economic Assessment
Project Snapshot
At a cutoff grade of 0.15% eU3O8 the project has an Inferred mineral resources of 11.6m pounds grading 0.228% eU3O8, and 69.6m lbs vanadium grading 1.37%;
Project area is at the apparent intersection of two major mineral trends in the Uravan mineral belt;
Future target exploration focus on the down-dip extensions of the Burro and Sunday-Carnation mineral trends;
Current activities include analyzing the geologic model to increase the resource size and developing measured and indicated resources.
Summary of Inferred Mineral Resources For Slick Rock Project
Effective Date April 8, 2014
Cut-off Grade
eU3O8%

Tons x 1,000

eU3O8 (%)

Contained
U3O8 (Mlbs)

V2O5 (%)

Contained
V2O5 (Mlbs)

0.10

4,225

0.186

15.7

1.12

94.2

0.15

2,549

0.228

11.6

1.37

69.6

0.20

1,646

0.255

8.9

1.53

53.4

0.25

775

0.296

4.6

1.78

27.6

0.30

274

0.340

1.9

2.04

11.4

0.35

71

0.415

0.6

2.49

3.6

0.40

69

0.417

0.6

2.50

3.6
Project Overview
Uranium Energy Corp's Slick Rock Project is in San Miguel County, Colorado approximately 24 miles north of the town of Dove Creek. The Project occupies all or parts of sections 15, 16, 19, 20, 21, 22, 23, 24, 25, 26, 27, 28, 29, 30, 32, 33 and 34 in T44N R18W, NM Principal Meridian, and parts of sections 3, 4 and 5 of T43N R18W, NM Principal Meridian. The Project consists of 315 contiguous mineral lode claims and covers approximately 5,230 acres (8.2 square miles). The Slick Rock Project is bordered to the west by the Department of Energy's (DOE) Uranium lease tracts C-SR-13 and C-SR-13A, to the southwest by DOE Uranium lease tract C-SR-14(1), and to the north and northeast by the Sunday / Carnation / Topaz / Saint Jude mine complex, formerly owned by Energy Fuels.
The Slick Rock property produced Uranium and Vanadium from 1957 to 1983 via the Burro Mines. The historic production totals of the Burro Mine are as follows:

| | | |
| --- | --- | --- |
| Production years | lbs U3O8 | lbs V2O5 |
| 1957-1971 | 1,992,898 | 12,149,659 |
| 1971-1983 | 243,825 | 1,791,798 |
| Total | 2,236,723 | 13,941,457 |

All Uranium/Vanadium production came from the Upper Rim Sand of the Salt Wash Member of the Jurassic Morrison Formation.
Within the Slick Rock Project area, the Salt Wash Member is approximately 275-400 feet thick. The Fluvial sediments of the Salt Wash were deposited by north to northeast flowing paleostreams. In the project area, these streams were deflected eastward by the paleotopographic high caused by the northwest/southeast trending Gypsum Valley anticline. This allowed for thick accumulations of Salt Wash sediments along the southwestern flank of the anticline and across the project area. The Salt Wash is composed of white to grey, light-buff and rusty-red, fine to medium-grained, cross-bedded, lenticular sandstone interbedded with red, green, or light-gray shale and mudstone. The Salt Wash contains three major sandstone ledges, ranging from 20 to 150 feet in thickness and separated by clay and shale layers. The uppermost thick, continuous sandstone lens is commonly the most highly mineralized of the sequence. The largest Salt Wash Uranium deposits are near the edges of thick sandstone where a transition to sandy mudstone takes place, and in the scours or on the flanks of paleostream channels. Mineralized pods average in the range of 3000 tons to as much as 100,000 tons taken from a single cluster of deposits. Locally, deposits attain a thickness of 30 feet, but 2 to 9 feet thicknesses are most common. Minerals are carnotite, tyuamunite, and brightly colored vanadates, vanadium hydromica or clay. Unoxidized mineralization is commonly black, consisting or uraninite, coffinite, montroseite and vanadium hydromica or clay.