Grants Ridge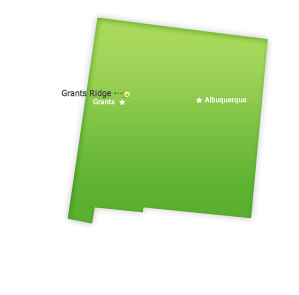 In this section:
Uranium Energy Corporation Grants Ridge property consists of three distinct property packages developed across the mineralized sections of the Todilto Limestone of Jurassic age. These properties, consisting of approximately 5,620 acres, are known as the F-33, Sections 4 and 9, and the Rick claims. The mineralized rock occurs as dark gray, uranium-bearing lamina and pods in limestone of the Jurassic Todilto Formation. Yellow and greenish-yellow uranium-oxide minerals occur on fractures in outcrop. The deposits are small, irregular in shape, are roughly tabular and elongate, and range from a few feet in width and length to bodies several tens of feet long. Specifics on the three mineralized areas are provided below:
Aug 25, 2009
Uranium Energy Corp Reports Exploration Progress at Grants Ridge Uranium Project in New Mexico
Mar 17, 2009
Uranium Energy Corp Joint Ventures Grants Ridge Project in New Mexico with Uran Limited of Perth, Australia
Geologic Setting
Uranium mineralization is hosted by Todilto Limestone of Jurassic age. Most of ore is in the "Crinkly unit" (algal mats and reefs) middle unit of 3 in limestone. The limestone is up to 40' thick in area; dips of 2-4 degrees east in areas except where faulted. These are separate deposits from the Westwater Canyon Member sandstones, which are higher in the section and produced 98% of ore deposits in district. The Westwater deposits are lower grade than the 0.2%+ U3O8 deposits of the Todilto Limestone.
Todilto Limestone Overlying Entrada Sandstone on UEC's Grants Ridge Project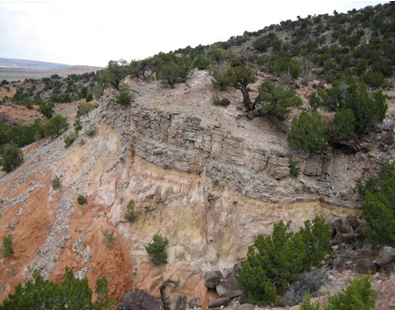 UEC Geologist Inspect Todilto Mineralization on Section 4 and 9 Claim Block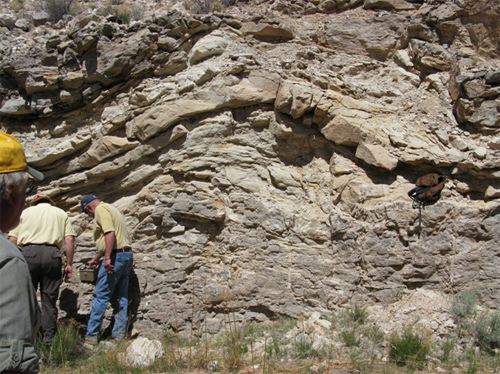 Todilto Limestone Showing Uranium Mineralization. From UEC's F-33 Claim Block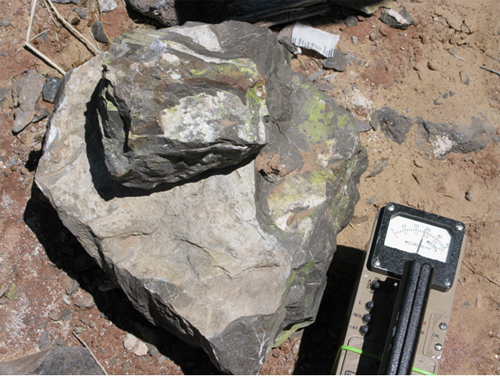 Property
172 unpatented claims (3300 acres) -DD Claims.
Historic Production
ANACONDA COMPANY: 1954-1959; 48,720 tons, 305,040 lb.U3O8 @ 0.31%; and 31,306 lb.V205 @ 0.12%; Mill 6000 ton/day, acid leach
HOMESTAKE MINING COMPANY: 1971-1974; 109, 231 tons, 417,412 lb. U3O8 @ 0.191%; Mill 3500 tons/day, carbonate leach circuit
Total Production: 722, 451 lb. U3O8 @ 0.229%
Geologic Setting
Uranium mineralization is hosted by the Todilto Limestone similar to F-33 Mine. The Todilto Bench is relatively flat lying. The host limestone occurs at surface to 25 feet. Many mining pits, trenches, adits and declines expose mineralization for view and sampling.
Property
36 unpatented claims and leases from private individuals: one covers the N/2 Section 9; another covers the S/2 of Section 9 for a total area of1280 acres.
Historic Production
Section 4: Group of mines—265,300 lb. U3O8 @ 0.21%
Section 9: 189,778 lb. U3O8 @ 0.15%
Total Production: 455,078 lb. U3O8 @ 0.18%