UEC In The Media
INTERVIEW - Supply Constraints Point to Uranium Rebound
April 14, 2011
Japanese nuclear plant damage has left industry in limbo
Uranium supply undershoots demand
China, India see nuclear energy as strategic
By Martin de Sa'Pinto and Natalie Olof-Ors
ZURICH, April 14 (Reuters) - Uranium prices and shares in uranium miners have fallen since Japan's Fukushima crisis clouded the future of nuclear energy, but these could rebound as uranium supplies are not enough to meet global demand, an industry executive said.

"Supply and demand fundamentals don't tell us we should be writing an obituary for the industry any time soon," Amir Adnani, Chief Executive of Amex-listed miner Uranium Energy Corp <UEC.A> told Reuters this week.
"Sentiment is bad now because of events, but nuclear energy still has an important role in the 21st century," said Adnani, who was visiting Switzerland.
As the crisis around the Fukishima-Daiichi reactor unfolds, many countries have begun to re-examine their nuclear policy. Switzerland has a moratorium on nuclear newbuilds, while Germany has closed for three months all reactors opened before 1980 Adnani compared the nuclear industry's situation now to that of oil companies after the Gulf of Mexico oil spill -- which prompted a moratorium on deep water drilling.

"There's a reason why nine months after the BP <BP.L> oil spill they have resumed drilling," he said, pointing to new Transocean <RIGN.VX><RIG.N> and Petrobras <PETR4.SA> projects.

"Knee-jerk reactions are not going to translate to sustainable long-term (energy) policy," Adnani said.
He added that although Japan had decided this week to raise the severity level of the Fukushima accident to the highest level of 7, radiation leakage at the Chernobyl accident of 1986 was far higher.

VOLATILITY AHEAD

Even so, since the Japan crisis broke, shares in uranium miners are down 30 to 50 percent. The cost of uranium itself has fallen 20 percent from a February peak to $58.50 per pound. With the marginal cost of production at $60, it is cheaper for some miners to buy uranium on the market, said Adnani.

Nuclear now accounts for 16 percent of world electricity production. With 425 of the world's 443 reactors still working, the 175 million pounds of uranium a year they use outstrip current supply by a wide margin, Adnani said.

"There is now a significant imbalance of supply needed to meet current reactor requirements," he said.
Moreover, governments in China and India consider their nuclear buildouts as strategic, and are unlikely to halt their programmes, he added.

Uranium prices were bid up sharply 2006-2007 as hedge funds and other financial investors piled in. That bubble burst when the financial crisis demolished commodity prices, but Adnani said volatility might return.

"There could be spikes in uranium prices because there's not enough to meet demand and there's no substitute for it."

Texas-based Uranium Energy Corp has a processing facility in Hobson, Texas, and began production in late 2010.
Editing by Jane Merriman: [email protected]; +41 (0)58 306 7462;
Reuters Messaging: [email protected]
Graph of new reactor projects: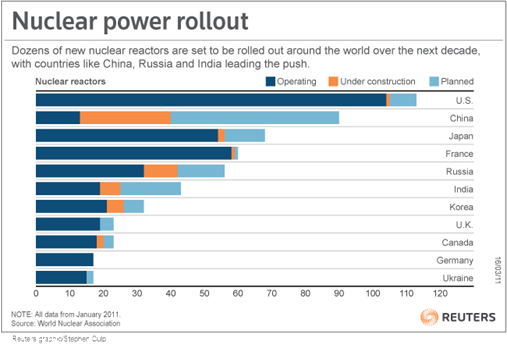 Graph of uranium consumption and production: