Uranium Energy News Releases
Uranium Energy Corp Acquires Portfolio of Canadian Uranium Exploration Projects in Saskatchewan's Athabasca Basin from Rio Tinto Exploration Canada Inc.
Corpus Christi, TX, August 22, 2023 – Uranium Energy Corp (NYSE American: UEC, the "Company" or "UEC") is pleased to announce that the Company has closed a purchase agreement with Rio Tinto Exploration Canada Inc., a subsidiary of Rio Tinto Inc. ("Rio Tinto"), to acquire a portfolio of exploration-stage projects in the Athabasca Basin, Saskatchewan, Canada for $1,500,000 (CAD) (the "Transaction"). The Company has acquired a 60% equity stake in the Henday Lake joint venture ("Henday"), 100% of the Milliken project ("Milliken"), and a 50% equity stake in the Carswell joint venture project ("Carswell"). With this Transaction, UEC has added an additional 44,444 acres (17,986 Ha) of prospective ground in the Athabasca Basin (See Figure 1) to its existing portfolio of 1,091,639 acres (441,771 Ha).
Transaction Components
Henday project is less than five kilometers north of the Roughrider project ("Roughrider") and close to support infrastructure offering regional synergies with Roughrider (acquired 10/17/22) and the other projects in the Eastern Athabasca Hub that UEC has assembled over the last 12 months as part of the UEX acquisition (completed 8/25/2022).
Carswell project is located just north of the past-producing Cluff Lake operation and has uranium showings in drill holes, trenches, outcrop, and boulders that are consistent with the mineralization types found at the former Cluff Lake operation. Carswell is in close proximity to Shea Creek where the Company has a 49.075% interest in the Shea Creek deposits (Anne, Kianna, 58B, and Collette).
Milliken project represents the western extension of UEC's Hidden Bay project's Wolf Lake trend that has multiple uranium showings over 19 km.
The $1,500,000 (CAD) Transaction was fully funded with UEC's cash on hand. UEC had $125.4 million of cash and liquid assets, no debt, as of the Company's latest quarterly filing for the period ending April 30, 2023.
Canadian Growth Strategy
In the last 12-months, key milestones achieved in the Company's Canadian growth strategy include:
The acquisition of the 100%-owned Roughrider1 from Rio Tinto and completion of a TRS for the project2.
The commencement of an economic study for Roughrider that includes a modern environmental baseline and updated economic factors for the project.
The acquisition of UEX1 and its portfolio of 29 uranium projects covering key areas of the producing eastern side and development western side of prolific Athabasca basin.
Operating joint venture partners on advanced resource stage projects including Shea Creek, Kiggavik, Millennium, and Wheeler River.
The acquisition of Rio Tinto's Athabasca Exploration project portfolio includes 60% of Henday, 100% of Milliken, and 50% of Carswell.
Discovery of a new mineralization zone at Christie Lake with some of the highest grades reported in the basin this year1 including 68.7% eU3O8 over 2.1 meters and 21.6% eU3O8 over 2.3 meters.
The acquisitions in the past year have increased UEC's total attributed current resources by 109.9 Mlbs of Indicated resources and 71.0 Mlbs of Inferred resources attributed to the Roughrider, Christie Lake, Horseshoe-Raven, Shea Creek, and Millennium projects. Individual project disclosure is outlined in Table 1 below.
Assembled an Athabasca land portfolio of 1,136,083 acres (459,757 Ha) for exploration and further growth opportunities.
Amir Adnani, President and CEO of UEC stated: "This is our third acquisition in the Athabasca Basin in the last 12-months and builds on the landmark acquisitions of UEX and the Roughrider project. This acquisition represents an important component in our strategy to assemble a premier North American uranium portfolio, featuring near-term US production, Canadian development-stage projects including joint ventures, and a pipeline of exploration projects with excellent growth potential. Since the acquisitions of Roughrider and UEX last year, the Canadian team has issued technical reports on the Roughrider, Horseshoe-Raven, and the Shea Creek deposits. We have also added James Hatley as Vice President Production, Canada to the team to augment the advancement of our Canadian assets towards production."
Chris Hamel, Vice President Exploration, Canada stated: "UEC is pleased to add these strategically important projects to our existing Athabasca portfolio. All three projects exhibit the features we seek when acquiring quality exploration assets, including uranium anomalism and hydrothermal alteration. In addition, these projects exhibit excellent prospective geology with minimal to no sandstone cover that will result in lower exploration costs and shorter timelines to discovery. With our operator status and the data already collected on Henday, Carswell, and Milliken, these projects offer strong potential synergies to our existing portfolio in the Athabasca Basin."
About the Henday Lake Project
The Henday project is 17,801 acres (7,204 Ha) in an area, less than five kilometers north of Roughrider, and like Roughrider is within the prolific Wollaston-Mudjatik transition zone that is host to many of the eastern Athabasca deposits. UEC will acquire 60% of the project and act as the operator of Henday project in a joint venture with Forum Energy Metals, who owns the remaining 40%. The Company's technical evaluation of the project revealed uranium up to 1,750 ppm associated with altered basement rocks that has yet to be followed up with additional drilling. The project is host to several compelling exploration targets identified by previous operators and the Company's technical team.
About the Carswell Project
The Carswell project is 16,771 acres (6,787 Ha) and just 1.6 km north of the now mined out Claude Deposit at Cluff Lake. The Carswell project lies within the Carswell Structure, the location of a meteorite impact that has brought the basement rocks and uranium mineralization much closer to the surface than in the surrounding area. Carswell is a project with multiple uranium showings in drill holes, trenches, boulders, and outcrop that together suggest similar controls on the mineralization as seen at the past-producing and now decommissioned Cluff Lake Mine. Some of the mineralization revealed in trenches is described as "radioactive Cluff Breccia veins"3. Exploration in the area dates to 1958, with the nearby Cluff Lake Mine operating from 1981 to 2002 with both underground and open pit mines. UEC will be the operator of the Carswell project and ALX Resources is the other owner with a 50% interest in the project.
About the Milliken Project
Milliken is 9,872 Acres (3,995 Ha) and is located along strike of the Company's Wolf Lake trend on its Hidden Bay project. Milliken represents a large early-stage project that hosts similar geology to that of the Collins Bay / Rabbit Lake Fault system. The Company has acquired 100% of Milliken and will be the operator.
1 – Additional Information available in related news releases on UEC's website at www.uraniumenergy.com/news and through the Company's profiles on SEDAR+ and EDGAR.
2 – Technical Report Summaries for each project are available on UEC's website at www.uraniumenergy.com and by reference in UEC's 2022 Form 10-K Annual Report filing on EDGAR.
3 – Saskatchewan SMDI 1155, https://applications.saskatchewan.ca/Apps/ECON_Apps/dbsearch/MinDepositQuery/default.aspx?ID=1155
Figure 1 – UEC's Athabasca project portfolio with newly acquired projects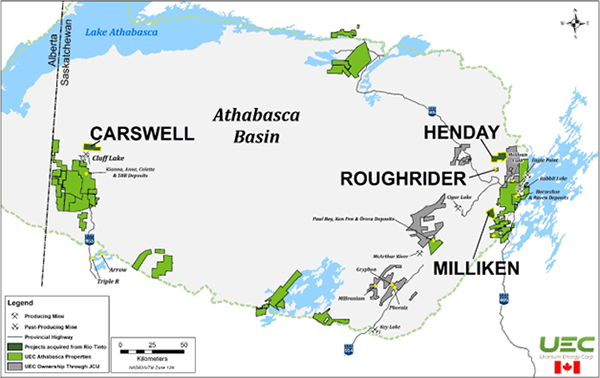 Table 1 – Canadian Uranium Oxide Mineral Resources
Project
Indicated
Inferred
Tonnes
('000's)
Grade
(% U3O8)
Pounds
U3O8
('000's)
Tonnes
('000's)
Grade
(% U3O8)
Pounds
U3O8
('000's)
Roughrider (1)
389
3.25%
27,842
359
4.55%
36,043
Christie Lake (2)
488
1.57%
16,836
Horseshoe-Raven (3)
10,353
0.16%
37,426
Shea Creek (4)
1,009
1.49%
33,176
616
1.01%
13,776
Millennium (5)
217
2.39%
11,423
62
3.19%
4,364
Item 1302 of Regulation S-K1300 Technical Resource Summary Report (the "TRS") prepared in accordance with S-K 1300 and was filed on May 2, 2023 with the Securities and Exchange Commission ("SEC") through EDGAR on Form 8-K and is also available on SEDAR as a "Material Document" filed on May 2, 2023. The TRS was prepared on behalf of the Company by SRK Consulting (UK) Ltd.
Christie Lake Project resources as stated in UEC's 2022 Form 10-K Annual Report filing available on EDGAR.
Horseshoe-Raven Project, Saskatchewan, effective date October 31, 2022 (https://www.sec.gov/Archives/edgar/data/1334933/000143774923001598/ex_465792.htm
Shea Creek Project, Saskatchewan, effective date October 31, 2022 (https://www.sec.gov/Archives/edgar/data/1334933/000143774923000881/ex_462410.htm)
Cameco 2023 Annual Information Form (https://www.sedarplus.ca/csa-party/viewInstance/resource.html?node=W1388&drmKey=0f27ae5cfb1f8b90&drr=ss960cc95c85ab4982f33206be9b4a44bf7179dfa98d640902014d6cdcdde7744917d7cc3c5b56668387cb45d6d554ee6cux&id=0c11f8b7998bcd96b5c614c17cd6d1a457534ad648cf0291)
The technical information in this news release have been reviewed and approved by Chris Hamel, P.Geo., Vice President Exploration, Canada for the Company, being a Qualified Person as defined by Regulation S-K 1300.
About Uranium Energy Corp
Uranium Energy Corp is the fastest growing supplier of fuel for the green energy transition to a low carbon future. UEC is the largest, diversified North American focused uranium company, advancing the next generation of low-cost, environmentally friendly In-Situ Recovery ("ISR") mining uranium projects in the United States and high-grade conventional projects in Canada. The Company has two production-ready ISR hub and spoke platforms in South Texas and Wyoming. These two production platforms are anchored by fully operational central processing plants and served by seven U.S. ISR uranium projects with all their major permits in place. Additionally, the Company has diversified uranium holdings including: (1) one of the largest physical uranium portfolios of U.S. warehoused U3O8; (2) a major equity stake in Uranium Royalty Corp. (NASDAQ: UROY, TSX: URC), the only royalty company in the sector; and (3) a pipeline of resource stage uranium projects. The Company's operations are managed by professionals with decades of hands-on experience in the key facets of uranium exploration, development and mining.
For additional information, please contact:
Uranium Energy Corp Investor Relations
Toll Free: (866) 748-1030
Fax: (361) 888-5041
E-mail: [email protected]
Twitter: @UraniumEnergy
Stock Exchange Information:
NYSE American: UEC
Frankfurt Stock Exchange Symbol: U6Z
WKN: AØJDRR
ISN: US916896103
Safe Harbor Statement
Except for the statements of historical fact contained herein, the information presented in this news release constitutes "forward-looking statements" as such term is used in applicable United States and Canadian securities laws. These statements relate to analyses and other information that are based on forecasts of future results, estimates of amounts not yet determinable and assumptions of management. Any other statements that express or involve discussions with respect to predictions, expectations, beliefs, plans, projections, objectives, assumptions or future events or performance (often, but not always, using words or phrases such as "expects" or "does not expect", "is expected", "anticipates" or "does not anticipate", "plans, "estimates" or "intends", or stating that certain actions, events or results "may", "could", "would", "might" or "will" be taken, occur or be achieved) are not statements of historical fact and should be viewed as "forward-looking statements". Such forward looking statements involve known and unknown risks, uncertainties and other factors which may cause the actual results, performance or achievements of the Company to be materially different from any future results, performance or achievements expressed or implied by such forward-looking statements. Such risks and other factors include, among others, the actual results of exploration activities, variations in the underlying assumptions associated with the estimation or realization of mineral resources, the availability of capital to fund programs and the resulting dilution caused by the raising of capital through the sale of shares, accidents, labor disputes and other risks of the mining industry including, without limitation, those associated with the environment, delays in obtaining governmental approvals, permits or financing or in the completion of development or construction activities, title disputes or claims limitations on insurance coverage. Although the Company has attempted to identify important factors that could cause actual actions, events or results to differ materially from those described in forward-looking statements, there may be other factors that cause actions, events or results not to be as anticipated, estimated or intended. Many of these factors are beyond the Company's ability to control or predict. There can be no assurance that such statements will prove to be accurate as actual results and future events could differ materially from those anticipated in such statements. Accordingly, readers should not place undue reliance on forward-looking statements contained in this news release and in any document referred to in this news release. Important factors that may cause actual results to differ materially and that could impact the Company and the statements contained in this news release can be found in the Company's filings with the Securities and Exchange Commission. For forward-looking statements in this news release, the Company claims the protection of the safe harbor for forward-looking statements contained in the Private Securities Litigation Reform Act of 1995. The Company assumes no obligation to update or supplement any forward-looking statements whether as a result of new information, future events or otherwise. This news release shall not constitute an offer to sell or the solicitation of an offer to buy securities.