Anderson
Anderson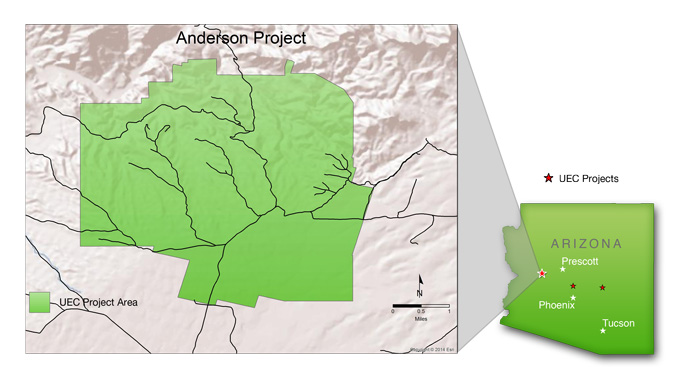 SK-1300 Technical Report Sunmmary
Project Snapshot
The Anderson Project has an Indicated Resource of 16,175,000 tons grading 0.099% eU3O8 for 32,000,000 pounds of uranium (SK-1300 TRS)
The Anderson project PEA shows a robust pre-tax project Internal Rate of Return of 63% and a Net Present Value of $142.2 million at a discount rate of 10%, with a post-tax IRR of 50% and an NPV of $101.1 million, based on a uranium price of $65 per pound;
The project will have an average production in excess of one million pounds per annum, for a total production of 16 million pounds of uranium over a 14-year mine life;
CAPEX for the Anderson project is estimated at $8 million for pre-production costs and $43.9 million for initial capital;
The project will have an average life of mine direct operating costs of $30.68 per contained lb. U3O8;
Metallurgical testing demonstrates uranium can be recovered by conventional heap leach methods;
Uranium recovery utilizing heap leach methods would allow production in the form of loaded resin which would be shipped to the White Mesa Mill near Blanding, Utah.
Recent Developments
Project Overview
The Anderson Project covers 8,268 acres (12.9 square miles) and is comprised of 386 contiguous, unpatented lode mining and placer claims and one Arizona State land section. The Project is located in western Yavapai County approximately 75 miles northwest of Phoenix and approximately 180 miles from UEC's Workman Creek Project. The northern area of the Project holds the surface mining resource and the adjacent southern area holds the resource which would be accessed by underground mining methods.

The uranium mineral resource estimate was based on a total of 1,175 holes, including drilling completed by Minerals Exploration Company ("MinEx") (1,054 holes), Urangesellschaft U.S.A. Inc. ("UG") (385 holes) and 25 holes drilled by Concentric Energy Corp. ("Concentric") as of July 1, 2022 the effective date for this estimate.
The Anderson Property has a long history. In the 1950's the Property hosted a small-scale open pit mining operation which resulted in a total of 10,758 tons of ore averaging 0.15% or 33,230 pounds of U3O8 being shipped to Tuba City, Arizona, for custom milling. Production ceased in 1959 when the Atomic Energy Commission terminated its ore purchasing program.

Since then, over 1,400 exploration drill holes have been completed on the Anderson Property, including 1,320 downhole gamma surveys and 5,596 chemical assays. Almost all of these were completed in the 1970s by MinEx on the Property's northern section and by UG on the southern section.

In the late 1970's the Property was brought to the feasibility stage twice, however, by the end of 1979, global and market events led both MinEx and UG to abandon their mineral claims in the Anderson Property.

In 2006, Concentric conducted the first drill program on the Anderson Property since the abandonment by MinEx and UG. A 25-hole drill program was completed to confirm the historical MinEx exploration database by "twinning" a significant number of former MinEx drill holes. A total of 24 rotary holes and one core hole, totaling 8,087 feet, were completed. No confirmation holes were drilled on the former UG portion of the Anderson Property. In 2008, Concentric commissioned Mountain States Research & Development International, Inc. to complete a process engineering assessment, the results of which are presented in a report entitled "Final Report Preliminary Process Engineering and Cost Estimates, Anderson Uranium Project, Yavapai County, Arizona."
SUMMARY OF MINERAL RESOURCES
Estimated indicated mineral resources are summarized in following table at a 0.02% eU3O8 grade cutoff and a 0.1 ft% GT cutoff. Mineral resources were estimated separately for each mineralized zone. The total contained mineralized material was first estimated, then reasonable prospects for economic extraction were applied.
Mineral resources are not mineral reserves and do not have demonstrated economic viability. However, considerations of reasonable prospects for eventual economic extraction were applied to the mineral resource calculations herein.
Mineral Resource Estimates
(0.1% Sum GT Cutoff)
Tons (millions)
Average Sum Thickness (ft)
Average Grade (%eU3O8)
Pounds eU3O8 (millions)
Resource Zone A
Reasonably Extractable Indicated Resource
0.862
3.8
0.111
1.907
Resource Zone B
Reasonably Extractable Indicated Resource
7.347
9.5
0.108
15.816
Resource Zone C
Reasonably Extractable Indicated Resource
6.211
10.4
0.094
11.730
Resource Zone D
Reasonably Extractable Indicated Resource
0.760
3.2
0.093
1.421
Resource Zone E
Reasonably Extractable Indicated Resource
0.911
7.6
0.060
1.095
Resource Zone F
Reasonably Extractable Indicated Resource
0.084
4.6
0.051
0.086
ALL ZONES GRAND TOTALS
Extractable Indicated Resource
16.175
8.2
0.099
32.055

Notes:
1. Mineral Resources are not mineral reserves and do not have demonstrated economic viability.
2. Economic factors have been applied to the estimates in consideration of reasonable prospects for economic extraction.
3. Totals may not add due to rounding.