Alto Paraná
Alto Paraná
About Titanium
The titanium dioxide (TiO2) pigment supply chain encompasses revenues of over US$10 billion, which in turn supply downstream industries generating annual revenue value many multiples of this. Titanium dioxide feedstock, of which ilmenite forms the main source represents an estimated US$2 billion per annum industry.
Over 90% of titanium dioxide feedstocks are used for TiO2 pigment manufacturing and smaller quantities in the production of titanium metal. TiO2 pigment is favoured for its whiteness, ultra violet protection, non-toxicity, inertness and imparts brightness and opacity to products including paints, coatings, paper, ink, plastics with many other applications as additives to cosmetics, foods and textiles. There is no economic substitute or environmentally safe alternative to TiO2 dioxide and pigment can be manufactured by either the sulfate or chloride processing technique.
The market for TiO2 pigment remains very strong. A tight inventory situation, together with ongoing strength in pigment demand, led to increasing sales volumes by global pigment producers which were accompanied by a series of price increases since early 2017.
Titanium metal and welding electrodes flux applications make up the remaining 10% of global titanium dioxide feedstock consumption. Titanium metal and titanium metal alloys are unique in the sense that these metals' properties include, high strength to weight ratio, high melting point, resistance to corrosion and chemical attack. These properties allow titanium metal to be applied in a range of demanding applications in the airframe and jet engine and aerospace industry. There are several growing applications in the chemical, electric vehicle (EV), power generation and electronics industries.
The first link in the supply chain is mining of deposits that contains titanium minerals, such as ilmenite, also referred to as titanium dioxide feedstocks. Natural occurring ilmenite (FeTiO3) is the most abundant titanium mineral with TiO2 content ranging from 35% to 65%. Ilmenite can also be upgraded to synthetic rutile or titanium slag, in the latter the TiO2 levels are increased to between 71% to 91%. Beneficiated feedstocks, such as titanium dioxide slag, are especially sought for titanium dioxide pigment production via the chloride process. Recent years have seen a gradual transition towards the chloride process, given the lower impurity levels and reduced environmental footprint.
Historical underinvestment in new feedstock mines, have resulted in a supply deficit being forecasted as early as 2019. This linked to high grade feedstock being favoured, create the perfect market entry conditions for UEC's Alto Parana Titanium Project.
The diagram below sets out a typical flowsheet from mining to final product.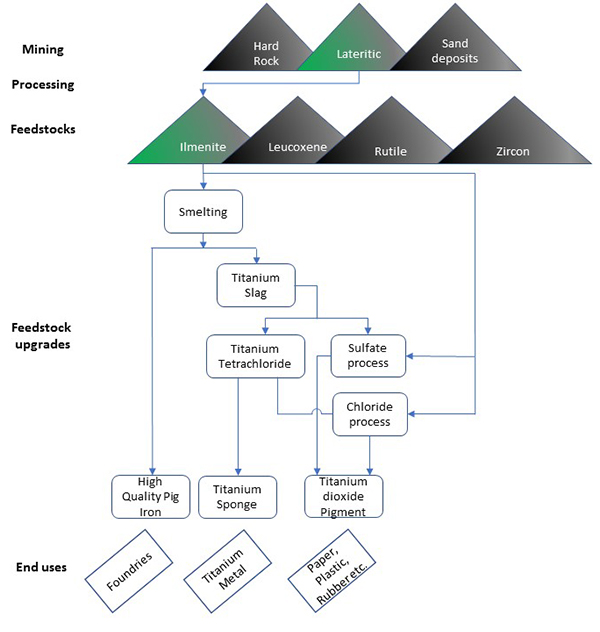 Project Overview
Given the established network and exploration experience UEC has in Paraguay, the option to acquire the project was exercised in July 2017.
The Project consists of a proposed mining operation to produce an ilmenite concentrate and smelting in an electric arc furnace to produce a high-quality titanium slag and high-quality pig iron products. The titanium slag would be sold as a feedstock for the production of titanium dioxide pigment. The pig iron would be sold to the iron and steel industry as a source of high quality iron units for the production of steel or to the foundry industry for the production of high quality ductile iron castings.
The Alto Paraná resource is atypically high in titanium values when compared to most beach sand deposits. High iron laterite hosts heavy minerals containing high iron and titanium values. Prior to the Company acquiring rights to the project, CIC Resources Inc. (CIC), under the leadership of noted mineral explorer David Lowell, identified mineralized laterite high in TiO2.
History of the Project
Exploration work on the property was initiated by CIC in 2009 and followed up by more closely spaced deep pitting and shallow (1 m) auger drilling in 2010 and 2011. In total, 4,432 samples from deep pits and 2,992 one meter auger samples have been collected and analyzed. Based on these extensive sampling efforts, the Company now controls the generally higher-grade/thickness area.
CIC also conducted extensive process development work with the objective of a viable process flow sheet for beneficiation of the heavy minerals from the laterite. This work carried out by Minerals Analysis Group, included design, construction and operation of a 1.5 t/hour pilot plant in Paraguay. During operations, the plant underwent continual process improvements and eventually produced 108 tonnes of concentrate over a three-month period. In January 2012, the concentrate was shipped to MINTEK in South Africa for smelting in MINTEK's facilities. The work was successfully completed in March 2012.
Key MINTEK conclusions presented in their report:
Slag fluidity was excellent and much better than comparable ilmenite feeds.
Slag quality was excellent, with slag assays consistently better than 85% and often exceeding 90%.
Pig iron quality was excellent, with the Fe content exceeding 97%.
Energy requirements for both coal and electricity were well within the calculated requirement.
Furnace arc stability and heat transfer were excellent and much better than prior experience with other ilmenite feed stocks.
Alto Parana Titanium Project
| | |
| --- | --- |
| | Alto Parana |
| Company | UEC |
| Location | Paraguay |
| Resource | 4940Mt @ 13.95% Ilmenite |
| Contained Ilmenite | 689Mt (Calculated) |
| Level | Inferred |
| Feedstock Quality | Sulfate ilmenite /Chloride slag and pig iron |
Project resource estimate positions Alto Paraná as one of the highest-grade and largest-known Ferro-Titanium deposits on the globe.
Located in Eastern Paraguay in Alto Paraná Province Approximately 100 km North of Ciudad del Este.
One of the largest titanium resources ever located.
At a 6% cut-off, an Inferred Resource has been estimated at 4.94 billion tonnes grading 7.41% TiO2 and 23.6% Fe2O3 over 70,498 hectares.
Mineralization occurs in a lateritic deposit, averaging 6.61 meters thickness which is atypically high in titanium values compared to most beach sand deposits.
Excellent infrastructure with proximity to major hydroelectric power source, ideal for intense metallurgical mineral extraction.
Successful Pilot Testing of Production Process.
At advanced exploration stage with over $30 million invested to date.