Dalton Pass
Dalton Pass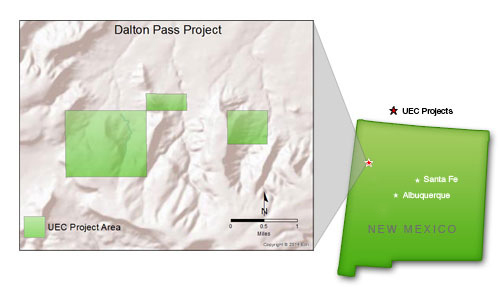 Project Overview
The Dalton Pass Project is located on the western edge of the Grants Mineral Belt, an area containing the two most productive uranium mining regions in New Mexico; Ambrosia Lake and Laguna districts. Drilling to date indicates that the uranium mineralization occurs as both primary tabular and roll front deposits. Mineralization is hosted by the upper Westwater Canyon Member of the Morrison Formation, a sequence of stacked sands separated by discontinuous shale breaks, at depths ranging from 1900 to 2100 ft. The project carries resource of 4.5 million pounds of eU3O8 that ranges in grade between 0.07 to 0.1%. UEC staked the Dalton Pass Project in December, 2014.

Summary of Resource Estimate by Polygon Method
Resource
Tons
Avg % eU3O8
Pounds eU3O8
Avg Thickness Feet
Avg GT
Measured (M)
446,267
0.094
839,137
10.1
0.95
Indicated (Ind)
1,176,383
0.095
2,231,589
9.8
0.93
TOTAL (M+Ind)
1,622,650
0.095
3,070,726
9.9
0.94
Inferred
908,127
0.084
1,529,823
9.3
0.78
In 1980, Pathfinder Mines reported 662,000 tons grading 0.07% eU3O8 or 946,000 pounds of eU3O8 in the Measured category, 2,808,000 tons grading 0.07% for 3,789,000 pounds of eU3O8 in the Indicated category and 459,000 tons grading 0.07% and 765,000 pounds of eU3O8 in the Inferred category. The details of this resource are available in the 2009 SEDAR filing for Strathmore Minerals Corp., titled, "Technical Report Section 32, T17N, R13W Dalton Pass Uranium Property, McKinley County, New Mexico". The foregoing resource estimate for Dalton Pass was completed prior to the implementation of SK-1300. A qualified person has not completed sufficient work to classify the historic mineral resources as current mineral resources, and the estimate should not be relied upon.
Recent Developments
UEC geologists have conducted field work to re-locate historic drilling and continue to investigate the area for additional uranium deposits. Geologic studies indicate that the source of uranium may have been volcanic, hydrothermal, syngenentic, or a combination of all three. While ground water formed the major part of the ore-bearing solutions, hydrothermal and volcanic additives certainly improved the effectiveness of the solution and possibly added uranium to them. UEC has not completed sufficient exploration to verify the historical resource estimate.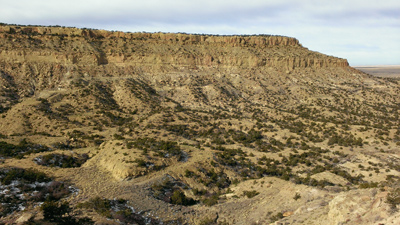 UEC Dalton Pass Project